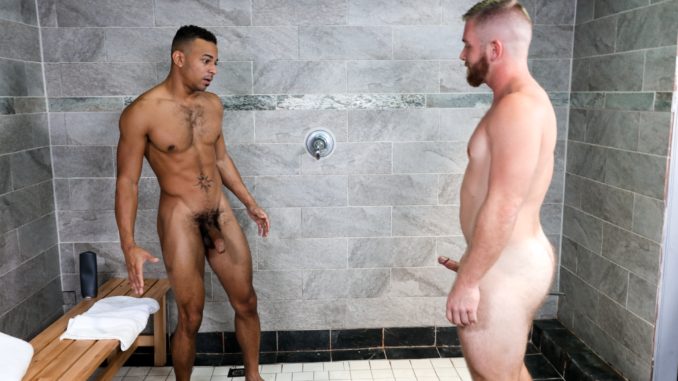 Out now at Extra Big Dicks:
(get 50% off first month – PROMO CODE: crushes50)
Water Log with Scott Riley and Zario Travezz
Watch trailer:
Click to join: Extra Big Dicks
(get 50% off first month – PROMO CODE: crushes50)
Zario Travezz is enjoying his shower at the local gym so much so that he begins to stroke his big cock while he's soaping himself up. He begins to pleasure himself stroking every inch of his big dick but what he doesn't know is that while he is lost in the moment Scott Riley has walked in and is now watching him while he touches himself. Zario has no clue until he turns around and sees Scott stroking. They both make eye contact and they both know what each other want so Scott drops to his knees and begins to worship Zario's thick dick sucking every inch of it. Eventually, Zario has Scott bent over fucking him all over the shower room floor and bench until Scott cums all over himself. Once Zario sees that nut he pulls his dick out and strokes out all his cum to the very last drop all over Scott.
Click to join: Extra Big Dicks
(get 50% off first month – PROMO CODE: crushes50)