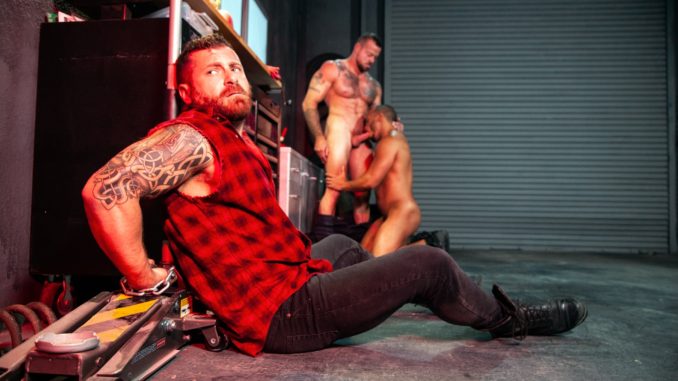 Out now at Raging Stallion:
(get 50% off first month – PROMO CODE: crushes50)
The Night Riders with Sean Duran and Dillon Diaz
Watch trailer:
Click to join: Raging Stallion
(get 50% off first month – PROMO CODE: crushes50)
Sean Duran finds Dillon Diaz on the floor of the shop with Riley Mitchel chained up nearby. As Riley looks on, Sean gets to work sucking on Dillon's ass. All the tongue action on his hole gets Dillon revved up and soon he's no longer able to resist the temptation of Sean's massive cock. Dillon gets it all down his throat and pays special attention to Sean's full sack, getting Sean in the mood to taste some dick. Sean gets Dillon up on the work bench and satisfies his cravings by slurping on the throbbing pole between Dillon's legs. The cock-hungry stud can't get enough dick down his throat and keeps up his sloppy sucking as Dillon moans out from all the pleasure. Sean is still horny and stands up to jack their thick rods together. The suck off session gets both studs ready to blow, and after one last taste of Dillon's sweet ass, Sean dumps a load right into Dillon's open mouth. That's all it takes for Dillon to let go and he jacks his meat until he covers the floor with a thick, creamy load. Riley is still looking on when Sean gives him a terrifying surprise and life-altering choice that will affect both Riley and Dillon's fates forever.
Click to join: Raging Stallion
(get 50% off first month – PROMO CODE: crushes50)