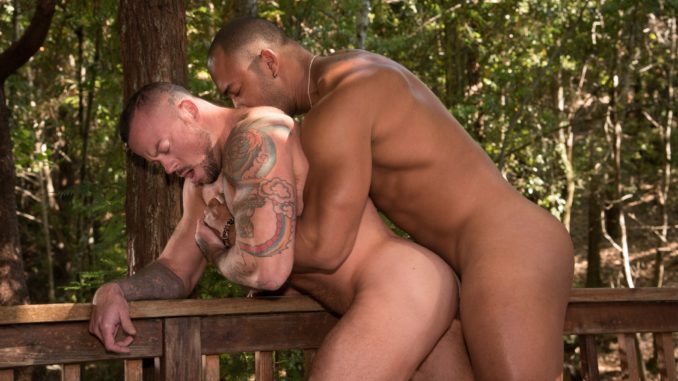 Out now at Raging Stallion: (get 50% off first month – PROMO CODE: crushes50)
Trapped with Sean Duran & Jason Vario
Watch trailer:
Click to join: Raging Stallion
(get 50% off first month – PROMO CODE: crushes50)
Tegan Zayne has been missing for a week and the police are baffled by his disappearance. Jason Vario is a detective from the city who is forced to work with local officer, Sean Duran, on the case. The two disagree on how to tackle finding Tegan and when their words get heated, Sean tells Jason to prove that he has the bigger dick. Jason is cool as a cucumber when he whips out his big monster cock. Officer Sean can see that he's been outsized and gets on his knees to get the whopper down his throat. Sean does his duty and gets Jason's massive pole hard as a rock as he slobbers on the shaft and sucks his big sack. Jason doesn't want to be left out of the cock sucking fun and helps Sean out of his clothes. Jason takes his turn by getting Sean's thick dick in his mouth. He savors the flavor and works every inch of Sean's tatted and muscled up body. After getting his fill of dick, Jason wants a taste of Sean's hairy hole. He bends the stud over and opens him up with his tongue to make way for what he's about to get next. Jason slides his meat deep into Sean as he grunts with every thrust from the detective. Jason pounds away on his counterpart, literally fucking the cum right out of him. After Jason sees that Sean has gotten what he needs, he pulls out and drains his balls all over Sean's tight and toned ass. Now that their differences have been put aside, they'll need to pull together and get to work finding Tegan before it's too late.
Click to join: Raging Stallion
(get 50% off first month – PROMO CODE: crushes50)