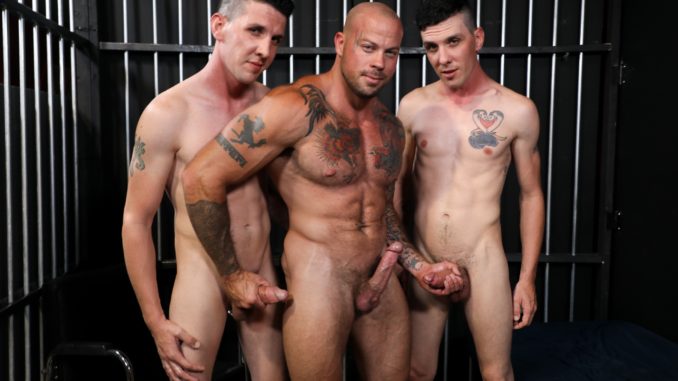 Out now at Men over 30: (get 50% off first month – PROMO CODE: crushes50)
Double Trouble with Sean Duran and Jacob Stax, Michael Stax
Watch trailer:
Click to join: Men over 30
(get 50% off first month – PROMO CODE: crushes50)
Michael Stax & Jacob Stax are sitting in their jail cell with their probation officer Sean Duran having a discussion on what will happen upon their release. One item is that they both owe the court money, but neither has a job and they don't know how they will pay their fines when they get out. The offer Sean themselves and Sean obliges by having the stand up and pull out their cocks. These twins are both hung and Sean wastes no time in getting between them and sucking their cocks. Once they are both rock hard, Sean has Michael fuck him while he eats Jacob's ass. They then switch and Jacob fuck Sean while he eats Michael's ass. Sean goes back to their cocks again and again as they take turns fucking him. Sean rides both their cocks for a while before lying on his back and having them take turns fucking him until he cannot hold back and shoots all over himself. Michael and Jacob then jack off their big cocks and shoot all over Sean.
Click to join: Men over 30
(get 50% off first month – PROMO CODE: crushes50)