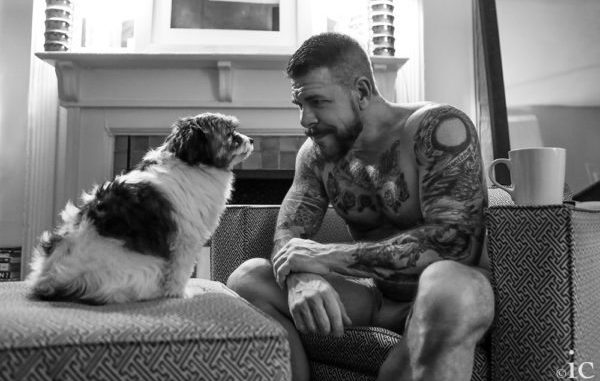 Here is the final part of our epic two-part #TheLegendsOfPorn interview with the big-hearted Rocco Steele – if you haven't already read Part 1 yet you can do so here 👉🏻 Part 1
Rocco, with the use of PrEP increasing over the last few years, how do you think we need to balance the messages, especially around safe sex and protection from not only HIV but other sexually transmittable diseases?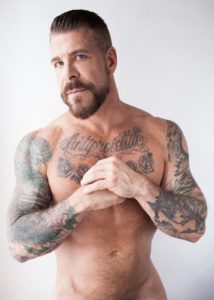 It's been very educational for me to be able to travel to those places where PrEP is not available as it is in the US. Even though I can no longer transmit HIV due to my undetectable status, it's been good for me to see the safe sex culture that exists in these countries that keeps men in the mindset that there is more than HIV that can be transmitted.
I wouldn't say we have forgotten that in the US, but I do think some of us choose to turn a blind eye to the other sexually transmitted diseases out there.
Right now for example, there is a gonorrhea supervirus that cannot be treated with antibiotics. This is very scary. Syphilis is also on the rise in our bigger cities. So we need to be more vigilant and responsible if we choose to fuck bareback. We need to get tested frequently. We need to listen to our bodies and if we are symptomatic for anything, we need to get treated and not have sex. We need to not shame partners who tell us they may have been exposed to something and instead, thank them for their honesty and go get tested.
These are just some of the things we should be doing to balance the message. Sex is fun. Bareback sex feels good but there are responsibilities that now come along with it if we choose to do it.
You have been quite open about your battle with addiction, and even though you have been sober for 20 years, do you still sometimes face struggles today and how have you found the strength to remain sober?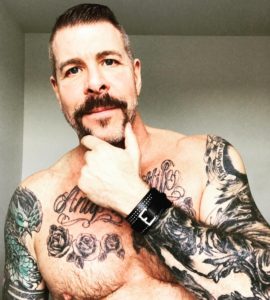 Thankfully, the obsession around alcohol and drugs was lifted very early on into my recovery. This doesn't mean that I don't have to work my program of recovery on a daily basis. I do. I am still very aware, 20 years later, that if I let my guard down or if I place myself into risky situations too many times, I could relapse.
My addiction is still there and always will be. It waits for the right moment – a moment of weakness. A moment where I've lost sight of who I am and think it's ok to just have a sip of wine or a snort of cocaine. Because I don't ever want to give in to my addiction, I have to go to recovery meetings and surround myself with other recovering alcoholics and drug addicts. I have to work a program of recovery every day. This helps me remember what it was like and what it would be like again if I picked it up. Thanks to this strategy, I've managed to stay away from alcohol and drugs for 20 years this December. Even when my job puts me in clubs and circuit parties where alcohol and drugs are rampant, I can still keep my distance from it all and protect myself.
And besides being in the presence of drugs and alcohol when I work clubs and parties, there are daily life struggles that also affect my serenity and ultimately my sobriety. For example, right now I am dealing with two aging parents – both with dementia … and all of the challenges that come along with that. It's been very hard on my family and it's been hard on me. During these times, it's important to keep grounded by staying close to my program of recovery. It's important to get out of myself and try not to dwell in sadness or stay in a dark place too long. When I know I'm doing the right thing, without regrets, I feel better about things. I can't change the progression of aging as it relates to my parents but I can change my perspective around it all.
Addiction affects people differently and is a very personal and individual journey. If someone is reading this and is currently dealing with their own battle with addiction, what advice or guidance would you like to share from your own experience that might just help someone to make that first step to recovery?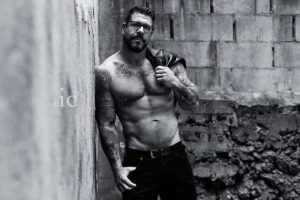 In many parts of the world, we live in a good time to be gay. We also live in a tough time. I often say, without diminishing the impact on AIDS to our community, that drugs are the new epidemic. Casual drug use amongst friends has become common and widespread.
It's hard to be a gay man struggling with addiction and/or alcoholism when you have a very tight-knit group of friends who frequently go out and use G, coke, molly or whatever. It must be scary to think you may lose these friends if you have to stop partying and get sober. The friends and the lifestyle have become your identity. What do you do?
All I can say is that when it came time for me to quit, I couldn't be concerned about the next party anymore. Things had become so bad that it just had to get better. Fortunately, when I discovered a program of recovery, I was welcomed and embraced by a group of gay sober men who had become my new sober family. I am close to many of them to this day. Some even came to my wedding. They have helped me and I have helped them stay sober all of these years later. My social life is rich and I am never bored. I can still go to a party or a club if I choose, but outside of work, these environments no longer interest me. I take care of my body holistically. Doing drugs and drinking alcohol just isn't compatible with that. Oh, and I love sleep way too much to be up all night and the following day chasing the next party. Life is sooooooo much better sober. Dancing is more fun. Fucking is more fun. Being awake for life is more fun.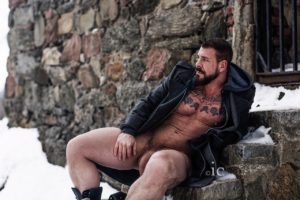 Like all industries, they are constantly changing and evolving. In the time you have been in this industry, what are some of the major changes that you have seen/experienced? 
I've only been in porn for 4 years now but just in that time I've seen two things:
The wide acceptance of bareback porn as more the norm and not just something you could only see on Treasure Island or Raw Fuck Club. When I first started, there was still a stigma around it but I saw that melt away very quickly. There were two types of models back then … those who would shoot bareback and those who refused to. Today, I would say most guys are shooting bareback, with the exception of exclusives for condom-only websites. Nowadays, if you want to work, you have to shoot bareback.
The desire to watch more homemade, amateur looking porn. The younger viewers want reality. They don't want big production porn. This has created a demand for sites such as Just For Fans and OnlyFans. Fans want to see what we do in our bedrooms when we hook up … they don't want to see what we do on a fake set in a studio as much anymore.
What do you consider to be some of the major challenges that our community face today? How do you think we can face them together?
I've already said it – DRUGS. This is such as important issue to me but I feel that whatever I'm about to say is going to come off as preachy and self-righteous but I feel we need to start to have the dialogue.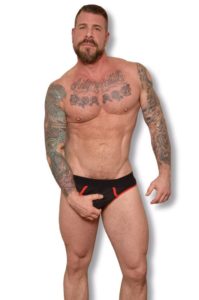 The widespread use of drugs (especially GHB and Meth) in bars, clubs, parties and for chemsex has created an epidemic and I don't use that term lightly. It's terrifying at what it is doing to our community. Our brothers are dying and lives are being destroyed.
I don't say any of this in a vacuum either. I read articles. I read a lot about this. I also see it first hand in my travels around the globe. The most shocking about all of this is that nobody is talking about it. We have accepted it as part of gay culture and we turn a blind eye to guys dropping on the dance floor and carried out of clubs on stretchers. Men we look up to as leaders and influencers in our community – doctors, lawyers, CEO's – they're out there on the dance floor twirling with the rest of them. How do we even begin to address it when this is the case (Note: I need to clarify or I'm going to catch some shit – there are many many responsible drug-free leaders and influencers in our community and this is who we need on our side in this war).
I could do an entire interview on this topic alone and since I have other questions to answer, I'll keep it brief. Bottom line: GHB and Meth use is increasing, not decreasing. It's killing and destroying lives in our community. What can we do as a community to face this together? We need to talk about it and not push it under the rug. We need the leaders and the influencers to help fight this huge battle that's killing our community.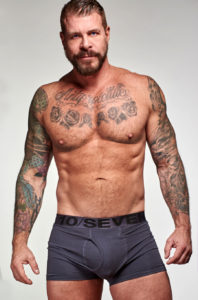 A few years ago you launched your own underwear line 10SEVEN, was this always something you wanted to do and where did the inspiration come from to design your own range?
In Part I of this interview, I talked about how miserable I was in my career towards the end. I had always wanted to have my own business but I never knew what that was.
I never had a lot of money saved so I knew that whatever it was, the overhead had to be minimal. After tossing around a few ideas I decided on men's underwear.
Deciding to produce men's underwear was more of a practical decision. It was something I could afford to produce and something that was easy to ship. Now, years later, it has turned into a passion. I really enjoy the Men's underwear business. I love designing it. I love the whole production process … I love marketing it and selling it. I'm a one-man operation. I do everything. I have assistants but in general, I wear every hat in my company. It's so gratifying.
How is it going and what can we expect next from 10SEVEN?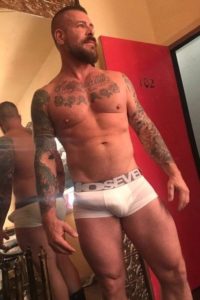 It's going really well. When I launched 10SEVEN in the spring of 2016, I wasn't sure if it was going to be well-received. But it was. I sell underwear and jock straps everywhere in the world. I've sold underwear from Dubai to Sydney and in fact, every continent in the world but still waiting on a sale from Antarctica 🙂
This past weekend, I had a soft launch of my new Stretch Cotton Bikini Brief. I'm so proud of this style. It's super sexy and so well-designed and well-made. It is now available for purchase on 10sevenunderwear.com. The main launch/big marketing campaign will happen in September.
I am also starting to design a new line of jock straps. Jocks are my best sellers so I'm going to start focusing on them and launching new jock styles in the months ahead.
One of the many things I admire about you is your love of animals, especially dogs and animal rescue centres. Are there any particular centre's that you are working with that you would like to talk about, and how can our readers and your fans help?
Yes and thank you for this opportunity. I'm a big mush when it comes to animal abuse. My dream is to open a rescue center of my own one day but since I can't do that right now, I try to support and promote a few of my favorite rescues whenever I can.
The world needs to realise that there are hundreds of thousands of abandoned/abused and neglected dogs that need to be adopted BEFORE we go to pet stores and shop for our pets so that somebody else can make a buck. We need to take care of the animals that already exist on this planet and not encourage breeding for profit. It's just the right thing to do.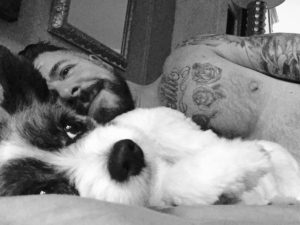 Towards that end, I encourage readers to check out the countless dog and animal rescues, whether you want to adopt, volunteer or donate.
I have two favorite dog rescues. One of my favorites is Rescue Dogs Rock NYC (@rescuedogsrocknyc on IG). The number of dogs they save and place in foster care and forever homes is staggering. They are a non-profit so they survive off of donations and volunteers (if you are in or around NYC).
Another favorite of mine, also NYC-based is New York Bully Crew (@newyorkbullycrew on IG). They mainly focus on the rescue of abused/abandoned/neglected pits. The guy who runs it (@c.legit5 on IG) and his girlfriend dedicate their lives to this. They are also non-profit (registered 501C3 rescue).
Finally, another rescue I follow/support and encourage fans to do the same is Rancho Relaxo (@boochaces on IG). The woman behind this rescue farm, Caitlin Cimini, is a living angel and rescues all animals from horses to pigs to goats to sheep to kittens. She also focuses a lot on education around the inhumane practices of slaughterhouses and she will often save animals right before slaughter and give them a chance at the life they should have. Naturally, she is also a non-profit (501c3) and survives off of donations so I encourage readers to help out if they can. Anything helps.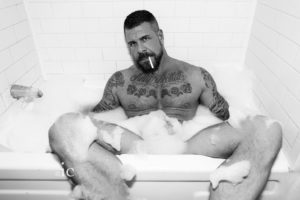 Once again Rocco, a massive thank you for wanting to be a part of our interview series #TheLegendsOfPorn, any final words to your fans?
What can I say other than what I always say … I am literally nothing without my fans. My fans buy my movies and my underwear and come to my shows. I truly owe this entire journey to them. I have the best fans because they have allowed me to share my story over the years and have allowed me to talk about all the real things in my life that make me who I am. I wouldn't want to do this if I had to be just a big penis. Don't get me wrong … Rocco is all about the penis but my fans love me above and beyond that and that makes this journey more rewarding. I am forever grateful.