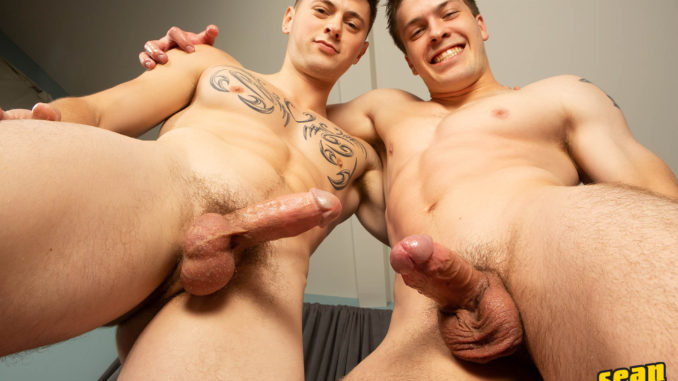 Out now at Sean Cody:
Clyde & Lane
Watch trailer:

Click to join: Sean Cody:
Muscular stud Clyde and athletic cutie Lane are cuddled up and cozy as they discuss what Clyde's first time fucking on film might be like. It's a little nerve-wracking, you know? He's hot, and it's scary. I might cum like three seconds before! says brown-haired Clyde. Oh that's not gonna happen! Iím not going to let that happen. My ass is real real tight, and you're gonna figure that out real quick, states tattooed Lane. He continues, How big is the dick? Sizeable, and decent, replies Clyde after some thought. Well, that's good, and all I need. I just need a decent size, responds Lane. So no small fries? jokes Clyde. I did a little research on you, and I like what I saw, responds Lane. Well, that makes two of us, says Clyde coyly.
Click to join: Sean Cody