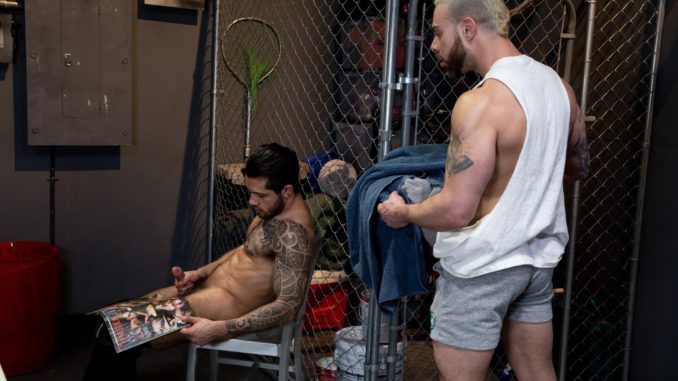 Out now at Raging Stallion:
(get 50% off first month – PROMO CODE: crushes50)
The Super with Ryan Cruz & Carlos Lindo
Watch trailer:
Click to join: Raging Stallion
(get 50% off first month – PROMO CODE: crushes50)
Ryan Cruz is doing laundry in his apartment building when he stumbles across a box of dirty magazines. When the coast is clear, Ryan whips out his fat dick and starts jacking off to the pictures of naked men. When Ryan is heavy into it, Carlos Lindo catches him with his dick in his hand. It's the best thing Carlos has found in the laundry room in years and he offers to give Ryan a helping hand. Carlos sinks straight to his knees and gets Ryan's hairy dick in his mouth. He works it until he's hard and ready for Ryan to do the same. Ryan happily gets down in front of Carlos and opens his mouth wide to service the fit stud. After sucking Carlos' cock, Ryan wants a taste of his firm ass. He courses his tongue from hole to taint until Ryan can sense that Carlos is ready to have his asshole cracked open. Ryan pounds Carlos, getting faster and deeper with each thrust from his fit, tight body until the studs switch it up one last time so Ryan can look Carlos in the eye. Carlos gets fucked on his side as the hunks stare each other down with each pump. That's all it takes to push Ryan over the edge. He pulls out and blasts Carlos' face with thick ropes of warm cum. With Ryan's cock still in his mouth and left a sticky mess, Carlos lets loose and covers the floor with his own giant load of cum.
Click to join: Raging Stallion
(get 50% off first month – PROMO CODE: crushes50)